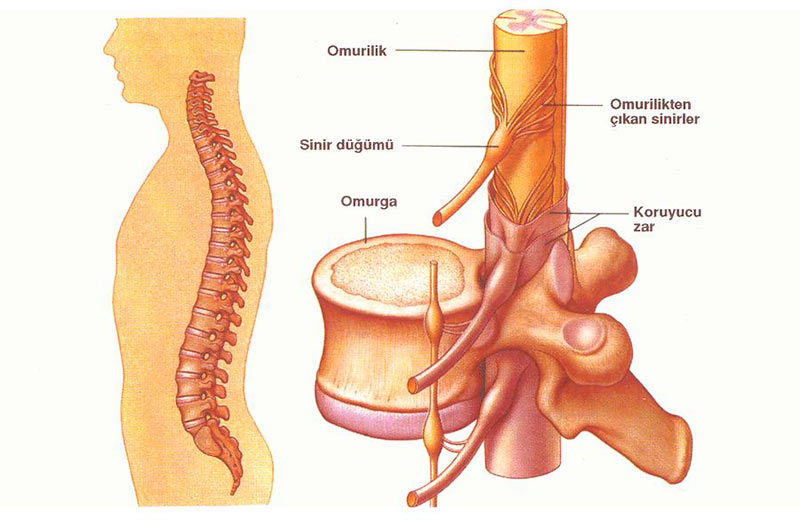 Narrowing of the spinal canal, which is known as "Spinal Stenosis" in medicine, is narrowing of the spinal canal or the canal in which nerves get out of the spinal cord, due to congenital or acquired reasons. Spinal stenosis is seen in the spine of the neck or lower back. Spinal stenosis in the neck is called "cervical myelopathy".  So, spinal stenosis usually refers to stenosis in lower back. Spinal stenosis is a common disease that causes pain in lower back and legs.
 Causes of Spinal Stenosis
Age: Ligaments which connect the bones in the spine get thicker due to aging, osteophytes form and narrow the spinal canal. Due to erosion of the disc, disc height gets lower and disc widens, also narrowing the canal. Aging and arthrosis in facet joints causes spinal stenosis symptoms by narrowing the spinal canal and nerve canal.
Genetics: Spinal stenosis symptoms may be seen amongst those who have congenital narrow spinal canal. Former spinal surgeries and traumas may cause narrowing by erosion and damaging.
Blood flow changes in lower back vertebras.
 Symptoms of Spinal Stenosis
1. Pain which increases with motion bending bacwards, reduces with resting, bending forward. Patient feels discomfort while walking down from an incline and stairs .
2. Numbness in legs, tingling, feeling cold or warm, weakness, tirednes
3. Clumsiness, frequent falls
Advanced imaging methods such as MRI and CT are required for definitive diagnosis of Spinal Stenosis.
 Treatment of Spinal Stenosis
Spinal stenosis disease is difficult to treat.
 Spinal canal diameter is partially widened via lumber flexion exercises.
 Anti-rheumatismal drugs
 Weight loss
 Resting
 Physical treatment
 Epidural steroid applications
 Surgery: Non-surgical treatment of spinal stenosis is unsuccessful in most of the cases. In well-chosen patients, surgical intervention removes the pressure on the nerves and help the patient live a normal life.